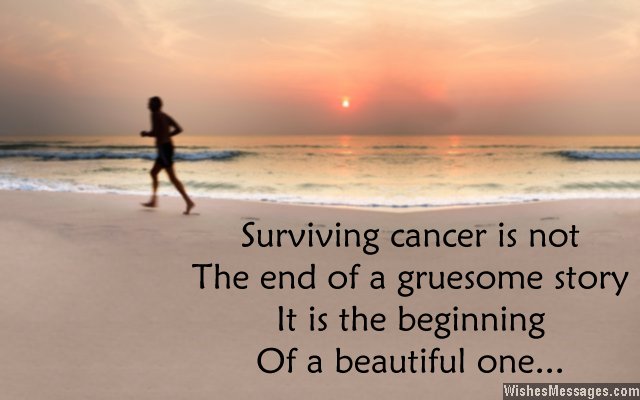 What do I think about when I hear the words "Cancer Survivor?" 
I think about all the individuals who heard the words "you have cancer" from their physician. I think about the millions of emotions those words instill.  The fear, saddness, anger, each and everyone of them has faced.  I think about the challenges of treatment.  Chemotherapy and its effects.  The days/weeks of daily Radiation.  The multiple diagnostic tests needed to see if treatment is working, if the cancer is gone, if it has come back.  I think about the financial burden many individuals/families have faced and the strain it places on them.  
Having cancer changes you.  During treatment it's about getting through the day and keeping life as normal as possible.  After treatment and for many years later the word Cancer never leaves your thoughts.  The first year or two of survival is filled with many doctor appointments, treatment and tests.  As each "Cancer Free"  year passes things begin to get back to a New Normal.  Your physicians may now only see you once a year for follow-up.  You have more time to do the things you used to do.  However the one thing that never changes is that "Cancer" is always on your mind.  You become more aware of your own health.  It's hard not to panic with each new twinge, pain or ache.  Having Cancer should not change the person you are; it should DEFINE who you become.
As a survivor, I am grateful to my husband who was and is there for me through this journey.  To my family and friends for their support both during and after treatment and which continues to this day.  To my healthcare team (physicians, surgeons, nurses) who face this disease daily and take the time during my annual vists to make me feel special, listen to my concerns and truly care about my well-being.
As a survivor, I believe Cancer made me a better person.  I look at things differently. I have a bigger purpose in life.  I want to help individuals understand the importance of health screenings in the prevention, detection, and treatment of Cancer.  I want people to know they are not alone in the fight.  I want to make a difference in raising Cancer Awareness.   I want people to take care of their health so they can be around to take care of their family.  
What do you think about when you hear the words "Cancer Survivor?"  
Categories: None